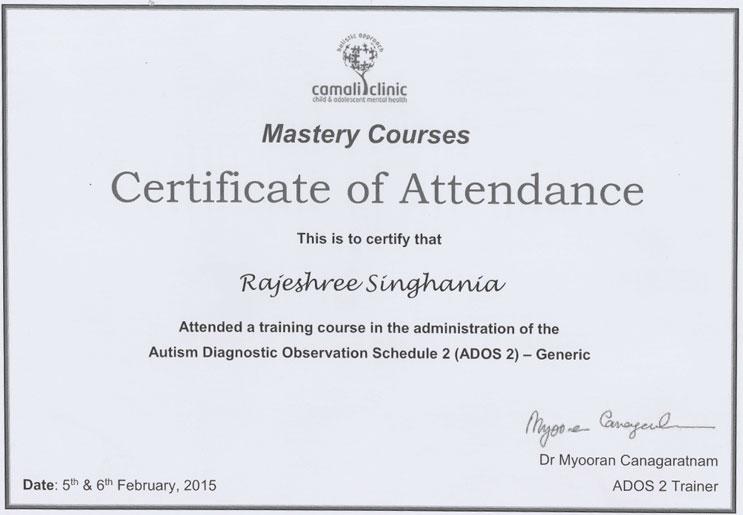 Autism Diagnostic Observation Schedule 2 (ADOS 2)
Child With Autism Symptoms Dubai | Autism Diagnosis Observation Schedule 2
Child with autism symptoms Dubai: The ADOS-2 provides a highly accurate picture of current symptoms of autism, unaffected by language. It can be used to evaluate almost anyone suspected of having ASD from one-year-olds with no speech, to adults who are verbally fluent. It is considered the gold International Standard for diagnosis of Autism Spectrum Disorders (ASD).
I have done the ADOS-2 training course twice. The first one in Dubai and the second one in London at the Great Ormond Street Hospital. It included lectures, live administrations, group discussions, a course manual and clinical practice. Following the ADOS-2 training course, we were required to complete a series of post-course work.
Course work was marked by the trainers to certify a level of clinical competence. To obtain a certificate we had to give practical exam and achieve more than 80 %. The certificate allows me to conduct unsupervised clinical ADOS-2 assessments.
Autism Diagnostic Observation Schedule 2 (ADOS 2)
was last modified:
September 13th, 2017
by
finnie
[easy-share counters=1 counter_pos="inside" native="no" hide_total="yes" fullwidth="yes" fullwidth_fix="100"]
"...Beautifully set clinic. Very friendly & warm staff. Safe and trusted feeling with the doctor. I see a good & healthy future for my child in doctor assistance..."
"...Dr. Singhania is an expert Professional. Based on the time and effort she put in helping my son Layl. She has been tremendous help!..."
"...Great Service and friendly staffs..."
"...Questions regarding our child's development were answered by Dr. Singhania. Staff are very helpful and informative..."
"...When we came here, Eliel had trouble with reading and concentrating. Now Eliel has changed a lot because now he can a little bit and he's now concentrating well and he developed..."
"...It was a great experienced with Dr. Singhania helping our grandson to feel much better..."
"...Professional, kind and welcoming..."
"...The doctor is very good to deliver the idea of treatment..."