Down Syndrome Baby Dubai | This Syndrome Affects Child's Mental & Physical Development
Down syndrome baby Dubai: What it is, genetic causes, physical features, growth in skills, and medical problems
Down syndrome baby Dubai: Down syndrome is a condition wherein extra genetic material gets lodged in chromosome 21. Hence it is also called Trisomy 21 it affects a child's mental and physical development.
Please invest a few minutes of your time to watch the down syndrome baby Dubai video below. It spells out how to look inside your child's mind. Or if you prefer to read, then feel free to skip the video and go straight to the text below:
Down syndrome baby Dubai: To receive information to help your child fill in your name and email ID in the form on the right
It occurs 1 in every 1000 babies and is one of the commonest genetic disorders seen. Though Down syndrome can't be prevented, it can be detected before a child is born.
When a baby is conceived he or she inherits genetic information or blue prints from both parents. The normal baby has 46 chromosomes: 23 from the mother and 23 from the father.
In most cases of Down syndrome, a child gets an extra chromosome 21 — for a total of 47 chromosomes instead of 46.
It's this extra genetic material that causes the physical features and developmental delays associated with DS. The actual cause of this is unknown but as a woman gets older the chances of having a baby with Down's syndrome increases.
Mothers over 35 years of age have 1 in 400 babies born with Down's syndrome. The physical features and medical problems associated with Down syndrome can vary widely from child to child. While some kids with DS need a lot of medical attention, others lead healthy lives.
The physical features of Down syndrome include a flat facial profile, an upward slant to the eyes, small ears, and a protruding tongue. They also have low muscle tone and their motor milestones are usually later than normal. Hence a baby with Down's syndrome may walk at 16 to 18 months instead of 12 to 14 months.
Down syndrome baby Dubai: To receive information to help your child fill in your name and email ID in the form on the right
The low muscle tone may also contribute to sucking and feeding problems, as well as constipation and other digestive issues in infancy.
Mental milestones are also affected. They usually have delays in speech and cognitive development.
The ability to look after themselves like feeding, dressing and toilet teaching may be impaired. Down syndrome affects kids' cognitive ability and most have mild to moderate intellectual impairment.
Kids with DS can and do learn, and are capable of developing skills throughout their lives.
They simply reach goals at a different pace — which is why it's important not to compare a child with DS against typically developing siblings or even other children with the condition.
Kids with DS have a wide range of abilities, and there's no way to tell at birth what they will be capable of as they grow up.
Down syndrome baby Dubai: To receive information to help your child fill in your name and email ID in the form on the right
Down syndrome baby Dubai: Medical problems associated with Down's syndrome
While having no significant health problems, others may experience a host of medical issues that require extra care. For example, almost half of all children born with DS will have a congenital heart defect. All infants should be evaluated by a pediatric cardiologist.
Approximately half of all kids with Down syndrome also have problems with hearing and vision.
Hearing loss can be related to frequent middle ear effusions or structural problems of the ear itself.
Vision problems commonly include strabismus (cross-eyed), near- or farsightedness, and an increased risk of cataracts.
Regular evaluations by an otolaryngologist (ear, nose, and throat doctor), audiologist, and an ophthalmologist are necessary to detect and correct any problems before they affect language and learning skills.
Other medical conditions include thyroid problems, intestinal abnormalities, seizure disorders, respiratory problems, obesity, an increased susceptibility to infection, and a higher risk of childhood leukemia.
Upper neck abnormalities are sometimes found and should be evaluated by a doctor (these can be detected by cervical spine X-rays). Fortunately, many of these conditions are treatable.
Down syndrome baby Dubai: To receive information to help your child fill in your name and email ID in the form on the right
If you like what you have seen or read about down syndrome baby Dubai, please share it with your friends by clicking on one of the social media buttons below.
Go from down syndrome baby Dubai to Pediatrician Dubai homepage
Summary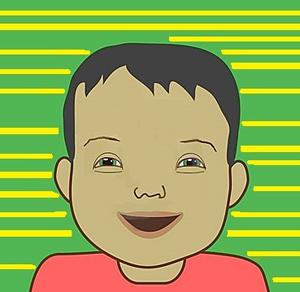 Article Name
Down Syndrome Baby Dubai | This Syndrome Affects Child's Mental & Physical Development
Description
Down syndrome baby Dubai: What it is, genetic causes, physical features, growth in skills, and medical problems. Answers to top 12 questions
Author
Publisher Name
Publisher Logo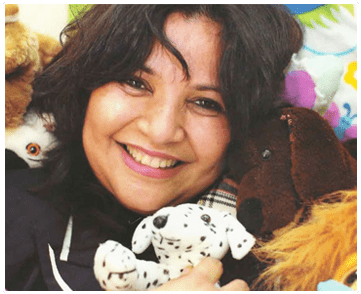 Down Syndrome Baby
was last modified:
September 4th, 2018
by
Book An Appointment
Top 12 Questions Asked
1. Fill in the form below, and receive answers to the top 12 questions generally asked by patients.
2.Once you have filled out the form, you will receive the answers for Singhania Clinic.
3. You will be contacted immediately.
What Our Patients Are Saying
"...We took the ASD theraphy and in less than one year we saw great improvements with my son. We're thankful to Dr. Singhania as we are exposed to the needs of my son and she helped us helped him..." - Irene Bolus
"...Dr. Singhania has been there supporting my son and my family. She always brings the latest therapies based on the accurate diagonsis she made. We really appreciate her work and efforts..." - Ahmed Elghadban
Degrees